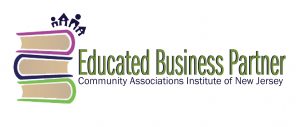 EDUCATED BUSINESS PARTNER DISTINCTION
CAI-NJ Business Partners are indispensable to the community associations they support with their guidance, products and services. CAI-NJ education helps these businesses and professionals differentiate themselves in the competitive community association marketplace.
CAI-NJ Educated Business Partners
Congratulations to the following Business Partners who have earned the CAI-NJ Educated Business Partner distinction. Each has successfully completed the Business Partners Essentials course and is affiliated with an active CAI-NJ Business Partner membership.
Sean Ahern, CIRMS, CIC, Jacobson, Goldfarb & Scott, Inc., Holmdel, NJ
Benjamin Basch, American Pool, Edison, NJ
Erika Befumo, CertaPro Painters, Ewing, NJ
Gene Corrado, Pacific Premier Bank, Princeton Junction, NJ
Chelsea Donnigan, Kipcon, Inc., North Brunswick, NJ
Jack Eckhardt, Supreme Metro Corporation, South Plainfield, NJ
Georgette Kyriacou, FWH Associates, P.A., Toms River, NJ
Linda S Lyons, MBA, AXA Equitable, Secaucus, NJ
Edward Mackoul, CIC, Mackoul & Associates, Inc., Old Bridge, NJ
Kevin Mantro, A+ Powerwashing, Neptune, NJ
Jennifer Nevins, DW Smith Associates, LLC, Wall Township, NJ
Julie Nole, Professional Restoration Services LLC, Norwood, NJ
Debbie Pasquariello, CIRMS, CIC, USI Insurance Services, Toms River, NJ
Robert Joseph Puterman, Regal Restoration USA, Eatontown, NJ
James M. Rademacher, Rezkom Enterprises, Inc., Ocean, NJ
David Shahrabani, Popular Association Banking, Miami Lakes, FL
Maria Elena Solis, CMCA, AMS, Lemus Construction, Inc., Furlong, PA
Dan Turi, G & C Electronics, Toms River, NJ
Jessica Vail, Falcon Engineering, Architecture & Energy Consulting, Bridgewater, NJ
Gabriel Vitale, Certified Sweeping Comp, C & L Services, Jackson, NJ
Graceanne Welsh, LAN Exteriors, Morristown, NJ
Kristy Winchock, Morris Engineering, LLC, Bedminster, NJ
For information on how you or your employees can earn the Educated Business Partner distinction email info@cainj.org.