CAI-NJ Committees Take an Active Role in the
Operations of our Chapter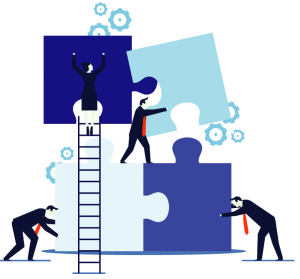 Each year, in the fall, CAI-NJ members in good standing are welcome to apply to serve on a committee for the following calendar year. Three of CAI-NJ's committees are dedicated exclusively to Homeowner Leaders, Managers and Business Partners. There are several other committees that require the input of all membership groups to meet their goals.
With the guidance and support of our CAI-NJ Staff, our committees are instrumental in the success and growth of the chapter. We are said to have the most active and engaged committee members out of all of the CAI chapters. 
Committees are a wonderful way to meet other members, have your company take an active role in the chapter and see how our chapter makes things happen from the inside out. If you're a new member and interested in getting involved, keep a look out this fall for committee sign-ups for the 2021 year. Registration typically goes out in August-September with an early October deadline for applications.
We can't thank our current committee members enough for their hard work, dedication and service to the chapter!
---
2020 CAI-NJ Committees & Responsibilities
Awards Dinner
Plan and coordinate the 2020 Awards Dinner
Establish an event theme and create decorations
Secure event sponsorships & encourage attendance
Available to help with the day-of-event activities, including shifts at registration
Business Partner
Membership is limited to Business Partner members of the chapter
Plan and coordinate programs and services to enhance Business Partner experience
Plan and coordinate at least one Business Partner seminar/event per year
Review submitted proposals for Business Partner educational track of the chapter's annual Conference & Expo
Ensure chapter is creating value with program and service offerings to Business Partner members
Evaluate current chapter programs and benefits for Business Partners
Provide content for the chapter's electronic newsletter
Conference & Expo
Work to enhance exhibitor and attendee participation
Increase attendance and sell sponsorships for event
Recommend to CAI-NJ Board of Directors the Conference & Expo theme and logo
Work closely with Business Partner, Managers and HL committees to develop education sessions
Recommend to CAI-NJ Board of Directors possible speakers for each education session
Committee members will serve as moderators of these programs
Logistical planning and execution for conference day activities
Editorial
Coordinates the publication of Community Trends®
Solicit qualified authors to submit articles
Review and edit articles submitted for publication
Submit one original work for publication during the calendar year
Facilitate the chapter's annual Shoot the Cover Contest
Future All Star Team (F.A.S.T.)
Coordinate the Olympics Event
Assists on initiatives throughout the year such as Red Nose Day, Food Drive, School Supply Drive, Breast Cancer Awareness, Movember, and Holiday Family Adoption
Plan and coordinate networking meet-ups
Golf Outing
Plan and coordinate the 2020 Dennis R. Casale Memorial Golf Outing
Secure event sponsorships and encourage attendance
Available to help with the day-of-event activities, including shifts at registration
Homeowner Leader (HL)
Membership is limited to HL members of the chapter
Plan and coordinate at least one HL seminar/event per year
Plan and coordinate at least one HL roundtable per year
Review submitted proposal for the HL educational track of chapter's annual Conference & Expo
Increase HL membership attendance at chapter's Conference & Expo
Ensure the chapter is creating value with their program
Engage HL members with the chapter and CAI National
Explore new ideas/benefits for HL members
Provide content for the chapter's electronic newsletter
Manager
Must be a CAI-NJ Manager or a Management Company member
Advance and promote professional community management through education, certification, recruitment, information sharing and best practices
Develop a managers-only program on a timely issue selected by the committee
Review submitted proposals for the Manager education track at chapter's Annual Conference & Expo
Write articles for Community Trends® for the monthly "Management Trends" section
Solicit individual community managers and management companies to join CAI-NJ
Recommend 2020 Professional Managers Development Program (PMDP) courses in New Jersey
Explore new benefits and services for Manager members
Provide content for the chapter's electronic newsletter
Membership
Responsible for the recruitment of new members and retention of current members through outreach
Develop and implement strategies for welcoming new members
Conduct monthly outreach to new members and report feedback to CAI-NJ staff
Conduct monthly outreach to current members that will be expiring to encourage them to renew and report feedback to CAI-NJ staff
Conduct outreach to recently expired members to encourage them to rejoin CAI-NJ and report feedback to CAI-NJ staff
Develop and implement systems and programs for membership recruitment and retention
Networking Events
Plan and coordinate the 2020 CAI-NJ Networking Events including Spring Break Party (April), Beach Party (August) & Pre-Conference Networking Reception (October)
Establish an event theme (if necessary)
Secure event sponsorships and encourage attendance
Available to help with the day-of-event activities, including shifts at registration
Solicit door prizes (if necessary)
Women's Leadership (NEW FOR 2020!)
Encourage active leadership from women in the industry
The committee, made up of all women, will develop strategies and programs to foster leadership
Mentorship between experienced leaders and rising professionals in the industry
---
---
2020 Committee Guidelines
Click to download The 2020 Committee Guidelines