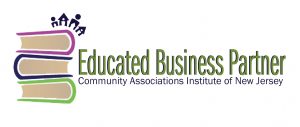 EDUCATED BUSINESS PARTNER DISTINCTION
CAI-NJ Business Partners are indispensable to the community associations they support with their guidance, products and services. CAI-NJ education helps these businesses and professionals differentiate themselves in the competitive community association marketplace.
CAI-NJ Educated Business Partners
Congratulations to the following Business Partners who have earned the CAI-NJ Educated Business Partner distinction. Each has successfully completed the Business Partners Essentials course and is affiliated with an active CAI-NJ Business Partner membership.
Sean Ahern, CIRMS, CIC, NFP Property and Casualty, Easton, PA
Tyler Allen, Becht Engineering BT, Inc., Basking Ridge, NJ
Thomas Asciolla, Apex Air Duct Cleaning, Monroe Twp, NJ
Benjamin Basch, American Pool, Edison, NJ
Erika Befumo, CertaPro Painters, Red Bank, NJ
Andy Brem, Good Mowin' Inc., Jackson, NJ
Gene M Corrado, Pacific Premier Bank, Princeton Junction, NJ
Lindsay Cupples, Dri Klean, Fairfield, NJ
Jeff Earnhart, Elauwit Networks, Haddonfield, NJ
Jack Eckhardt, Advanced Pavement Group, South Plainfield, NJ
Debbra Fisher-Horvath, AU, Peter Waldor & Associates, LLC, Livingston, NJ
Michelle Gadaleta, Snowscapes, Wayne, NJ
Asish George, MBA, LSSGB, BITS Consulting, LLC, Jersey City, NJ
Gabby Grimes, Kipcon, Inc., North Brunswick, NJ
Mathew Herceg, Becht Engineering BT, Inc., Basking Ridge, NJ
Georgette Kyriacou, FWH Associates, P.A., Toms River, NJ
Joseph Lucas, Becht Engineering BT, Inc., Basking Ridge, NJ
Edward Mackoul, CIC, Mackoul Risk Solutions, LLC, Morristown, NJ
Kevin Mantro, A+ Powerwashing, Neptune, NJ
Jennifer Nevins, CMCA, DW Smith Associates, LLC, Wall Township, NJ
Julie Nole, Professional Restoration Services LLC, Norwood, NJ
Debbie Pasquariello, CIRMS, CIC, USI Insurance Services, Toms River, NJ
Stefanie Pritchett, Falcon Engineering, Architecture & Energy Consulting, Bridgewater, NJ
Robert Joseph Puterman, Regal Restoration USA, Eatontown, NJ
James M. Rademacher, Rezkom Enterprises, Inc., Ocean, NJ
Steve Roderick, Jacobson, Goldfarb & Scott, Inc., Holmdel, NJ
Dave Scaturro, Alpine Painting, Paterson, NJ
David Shahrabani, Popular Association Banking, Miami Lakes, FL
Nicole Skaro, Alliance Association Bank, Phillipsburg, NJ
Christopher Tensen, Jesan Construction and Maintenance Services, Newark, NJ
Dan Turi, Servpro of Howell/Wall, Freehold, NJ
Jessica Vail, The Falcon Group – Engineering, Architecture & Reserve Specialists, Bridgewater, NJ
Gabriel Vitale, Certified Sweeping Comp, C & L Services , Jackson, NJ
Gabriel Vitale, C & L Services , Jackson, NJ
Joe Vitorino, Planned Companies, Parsippany, NJ
Kristy Winchock, Morris Engineering, LLC, Bedminster, NJ
For information on how you or your employees can earn the Educated Business Partner distinction email info@cainj.org.