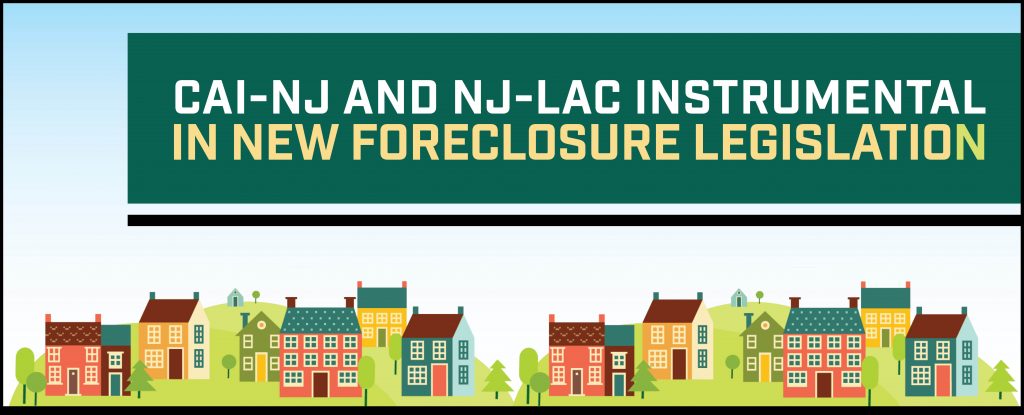 Press Release – Monday, April 29, 2019
CAI's Legislative Action Committee in New Jersey (NJ-LAC) is pleased to report that two foreclosure reform bills favorable to common interest communities in New Jersey (A5002/S3414 and A5005/S3413), which were part of a larger package of bills addressing the foreclosure crisis in New Jersey, were signed into law today by Governor Murphy at a special signing session in Atlantic City.
A5002/S3414 extends common interest community lien priority to homeowner associations (where until now it was only applicable to condominiums) and also extends the one-time, six month lien priority to an annual, six month lien priority for a maximum of five years. A5005/S3413 shortens the time period within which a sheriff's sale must take place after foreclosure judgment has been entered on a vacant and abandoned property. 
George Greatrex, Esq., Chair of the NJ-LAC stated, "This is a monumental advancement for all of New Jersey's condominium and homeowners associations. These laws came about due to years of continued involvement by our NJ-LAC along with the effective efforts of our government affairs partner, MBI. Michele Jaker of MBI met regularly with the bills' sponsors and other stakeholders to make sure our interests were addressed and included in the legislation".
Foreclosure reform is one of the main legislative and regulatory priorities of NJ-LAC and these newly enacted laws will ease the financial burden on common interest communities caused by unpaid assessments and vacant and abandoned properties.
Larry Thomas, CAI-NJ Executive Director states, "Through the continued efforts of our Legislative Action Committee and MBI, we were able to work closely with the sponsors of these bills and were very involved in the crafting of the language and changes outlined in them. The NJ-LAC spent hours meeting with and educating the bills' sponsors as to the importance and need for these changes to the current foreclosure laws. We are thankful to Senator Troy Singleton (D7 – Burlington County) for his hard work in getting these bills over the finish line. These new laws will provide great financial relief to all of New Jersey's common interest communities that are faced with foreclosed units along with the unpaid assessments associated with these vacant and abandoned properties".